SMALL AND MEDIUM INDUSTRY DEVELOPMENT ARGENCY(SMIDA)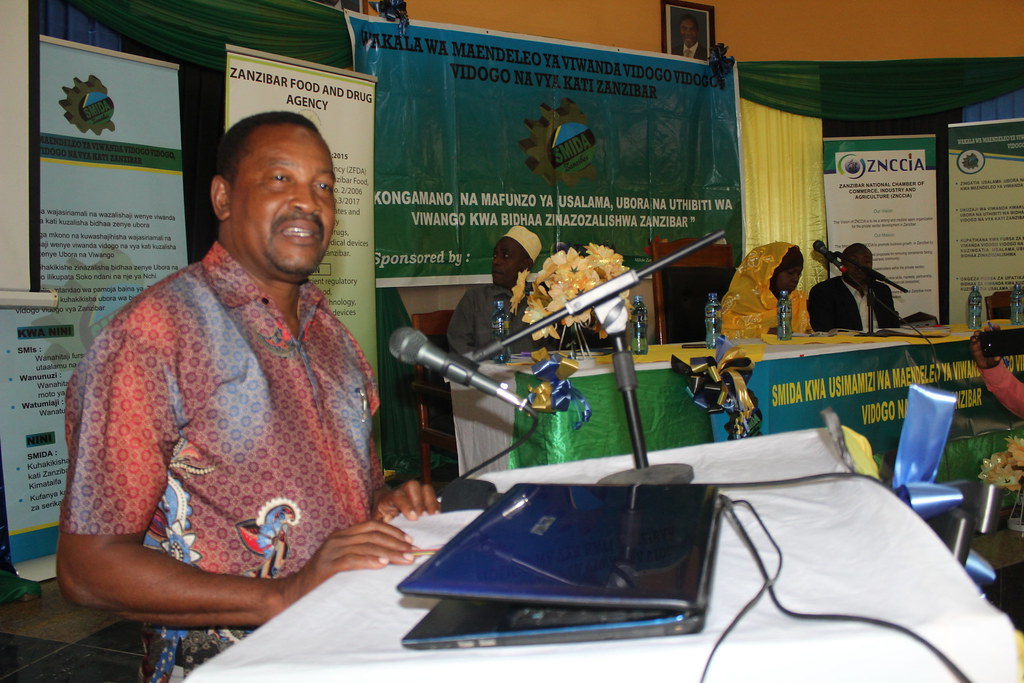 SMIDA OVERVIEW
The Micro, Small and Medium Industrial Development Agency (SMIDA) is a parastatal Industrial Development Agency established by the Act No. 2 of 2018. The Agency operates under the Ministry of Trade and Industries
The Agency is mandated to advice, develop, coordinate, promote and offer every form of support to micro, small and medium industries in Zanzibar through facilitation from early stage of formalization to marketing of the product and all the way to graduation to large industry category.
Also it operate or facilitate affordable credit schemes and other financial and non-financial services through Small and Medium Industrial Development Fund (SMIDF).
CORE FUNCTIONS OF THE SMIDA
In carrying out its mandate, SMIDA has a number of functions that are core to its existence and are geared towards ensuring the fulfilment of its vision and mission and the achievement as per its Act No 2 of 2018. The core functions of the organization include the following:-
1. Innovate and implement programs to support the development of MSMI.
2. Encourage the establishment and development of MSMI.
3. Provide advice, coordinate, monitor and evaluate the performance of MSMI.
4. Establish, operate or facilitate access to affordable financial services and non-financial services for MSMI projects.
5. To advise the Government for all matters of the development of Micro, Small and Medium Industries.
6. Initiate, coordinate and support marketing activities for MSMI products and services.
7. Facilitate the development of Micro Small and Medium Industries in rural areas by promoting the use of skills and resources available in those areas.
8. Provide and promote competent training services for active and prospective entrepreneurs and employees of Micro Small and Medium Industries.
9. Provide advisory services for Micro Small and Medium Industries in strengthening product and quality standards by focusing on the development and efficient use of technology, packaging, product design and technical services.
10. Provide proper and affordable work premises in industrial sites for MSMIs..
11. Advise and support Micro Small and Medium Industries in acquiring proper equipment for their work either by buying, renting or through other trade or business agreement;.
12. Providing technical services through mechanical and electrical workshops operation
13. Facilitate access to local, regional and international markets for MSMI products and services;
14. Coordinate and facilitate activities and programs of common interest to MSMIs
15. Propose to the Government through the Minister, proper incentives to, and necessary protection of, MSMIs

SERVICES AND OPPORTUNITY.
Agency provided several opportunity to the Micro, Small and Medium Industry to achieve the goal of revolution of Zanzibar to empower their citizen on:-
1. Result of survey, guidance counseling and training
2. Availability , manufacture , import, sale and distribution of package as well as packaging materials training
3. Support of commercial market research and relationship opportunity with domestic and foreign manufacturers
4. Purchasing and supply machine
5. Technical support for industry
6. Support for small scale industrial project , informal sector and priority sectors
7. Support for woman entrepreneurs and persons with disability with micro, small and medium enterprises
8. Facilitate access to laboratory testing services and quality certification procedure in collaboration with relevant authorities
9. Loan and borrowing of production equipment
10. Provide formalization education on industry sector

FOR MORE INFORMATION, VISIT OUR OFICIAL WEBSITE OF SMALL AND MEDIUM INDUSTRY DEVELOPMENT ARGENCY(SMIDA)
Click Here